Harry & Co.
Wedding Rings
Welcome to our captivating collection of wedding rings. Our exquisite selection is crafted using only the finest materials, ensuring durability and lasting beauty. If you prefer a classic wedding band or a modern wedding ring with diamonds, we offer a variety of options to suit different tastes and budgets.
Each ring in our collection represents the deep love and commitment shared between partners, making it a true symbol of your special bond. Explore our remarkable selection today and find the perfect wedding ring that holds deep significance for your journey of love.
Our beautiful bridal sets and mesmerising wedding rings are carefully chosen to harmonise style and symbolism. Our collection features a range of stunning and elegant designs. From elegantly detailed bands to exquisite rings adorned with precious gemstones. A wedding band goes far beyond its aesthetic appeal. It represents the everlasting commitment and profound meaning of your marriage.
With our meticulous craftsmanship and attention to detail, each ring captures the essence of eternal love. Embrace the beauty of tradition or opt for contemporary styles - the choice is yours. Begin your search for the perfect wedding ring and let us be a part of this extraordinary celebration of love.
What are the different styles of wedding rings?
There is a diverse range of styles when it comes to choosing the perfect wedding ring. From classic gold bands to intricate designs. Popular styles for women include claw set diamond rings in a variety of sizes, the millgrain detail of vintage-inspired rings, pave set diamond in rows of 3 or 5. Each style offers a unique aesthetic, allowing you to find a wedding ring that perfectly suits your personal taste and preference.
Which wedding bands go with my engagement ring?
Choosing the perfect wedding band to complement your engagement ring is a matter of personal choice and preference. Consider the style and design elements of your engagement ring, such as the metal type and any gemstones it may have. Opt for a wedding band that matches the metal and overall aesthetic of your engagement ring for a cohesive bridal ring set.
Do I wear my wedding ring below or on top of my engagement ring?
Traditionally, wedding bands are worn below engagement rings as a symbol of marital commitment. However, the positioning of your rings is a personal selection. Some individuals prefer to wear the wedding ring on top to highlight the engagement ring. While others choose to wear it below for a traditional look. The choice is entirely up to you and your personal liking.
What do wedding rings symbolise?
Wedding rings hold significant symbolism in marriage. They are a symbol of love, commitment, and the vows exchanged during the wedding ceremony. Wedding rings represent the enduring bond between partners. The rings serve as a constant reminder of the promises made during the marriage vows.
Should the wedding band be thicker than an engagement ring?
Determining the thickness of your wedding band is based on personal preference and individual taste. There are no strict rules regarding the width of a wedding band in relation to an engagement ring. Some people prefer a wedding band with a similar width to the engagement ring. This can create a balanced bridal band set, while others prefer a thinner or thicker band for contrast. Choose what suits your personal style and liking.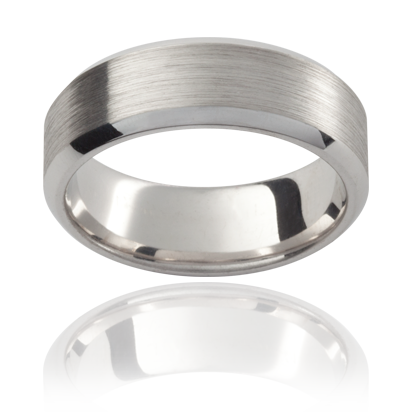 What kind of wedding band should a man wear?
The choice of a wedding band for men depends on personal preference and individual style. Classic options include plain gold or platinum bands, often in a wider width. Designs range from subtle textures or ridges, to more contemporary metals like black zirconium. Select a wedding band that reflects your personal taste and complements your lifestyle.
Should a wedding ring have diamonds?
Incorporating diamonds into a wedding ring is a matter of personal choice. While diamonds are commonly associated with engagement rings, they can also add elegance and sparkle to a wedding band. Some people prefer a simple, plain band, while others opt for diamonds or other gemstones to enhance the beauty of their ring. Choose a style that resonates with you and matches your individual preference.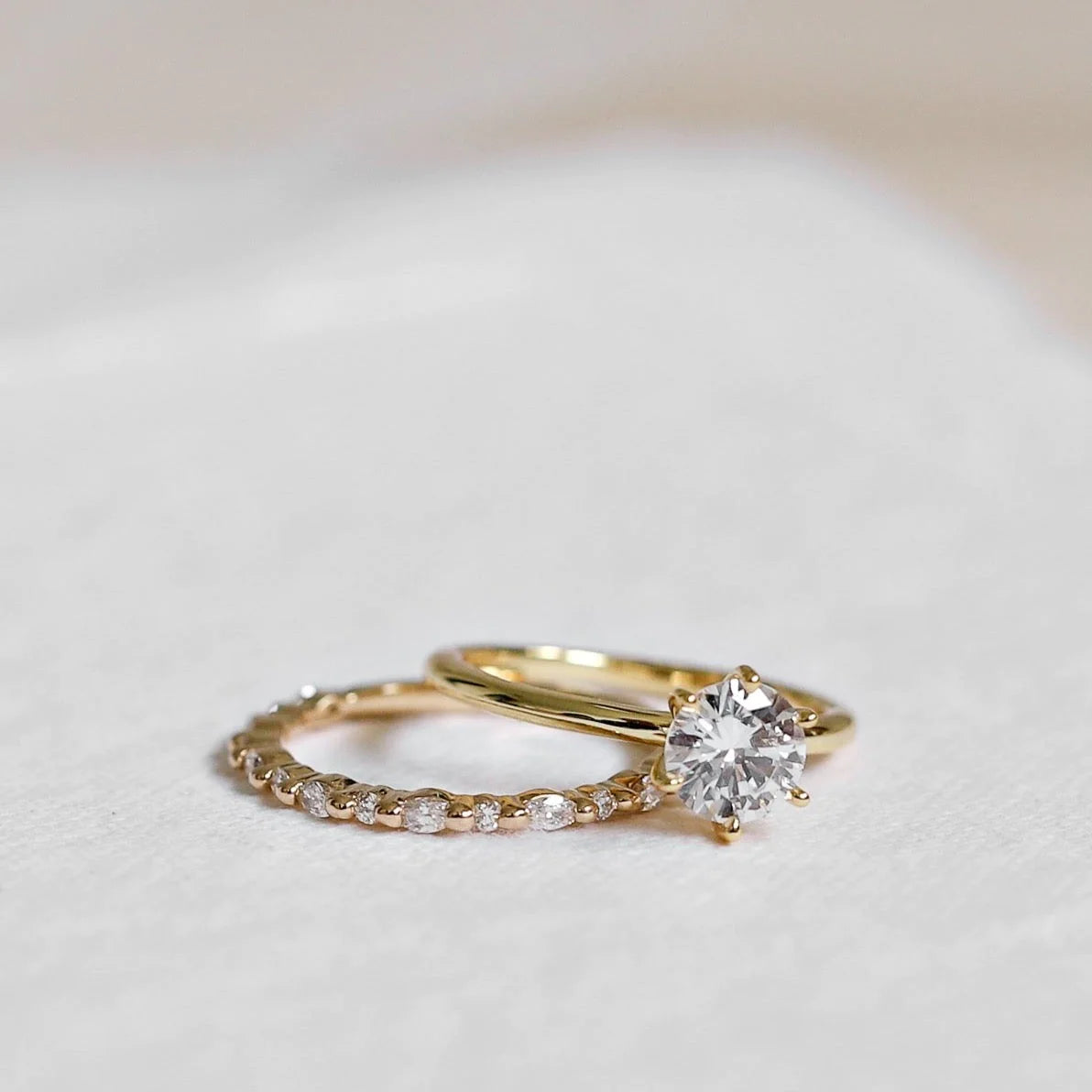 How do I match my wedding ring to my engagement ring?
To create a coordinated bridal ring set, consider factors such as metal type, style, and design elements when choosing a wedding band. Select a wedding band that complements the overall style of your engagement ring. Matching metals or coordinating gemstones can help achieve a harmonious look. It is recommended to try different combinations and consult with a jeweller for expert guidance in finding the perfect pair of wedding bands.