Womens Wedding Rings
Uncover our exquisite collection of women's wedding rings. Where sparkling tradition meets brilliant artistry. Each piece in our curated selection is masterfully crafted. A perfect ring for the woman preparing to embark on a journey of love and commitment.
Our diamond wedding rings are specially designed for ladies. Blending the timelessness of diamonds, with the sophistication of gold or platinum. Each ring showcases the talent and dedication of our local artisans, who take great pride in their workmanship, creating an elegant tribute to the female spirit.
You may prefer the classic appeal of a gold band studded with diamonds. Or the modern sophistication of a platinum ring crowned with a brilliant solitaire. Our selection of women's wedding rings has something to match every unique style.
Where are our women's wedding rings made?
All of our women's wedding rings are Australian crafted. Our talented artisans are based in Sydney and Adelaide. They are dedicated to creating pieces that fit perfectly to your existing engagement ring, whether we've created that or not, or shine brilliantly on their own.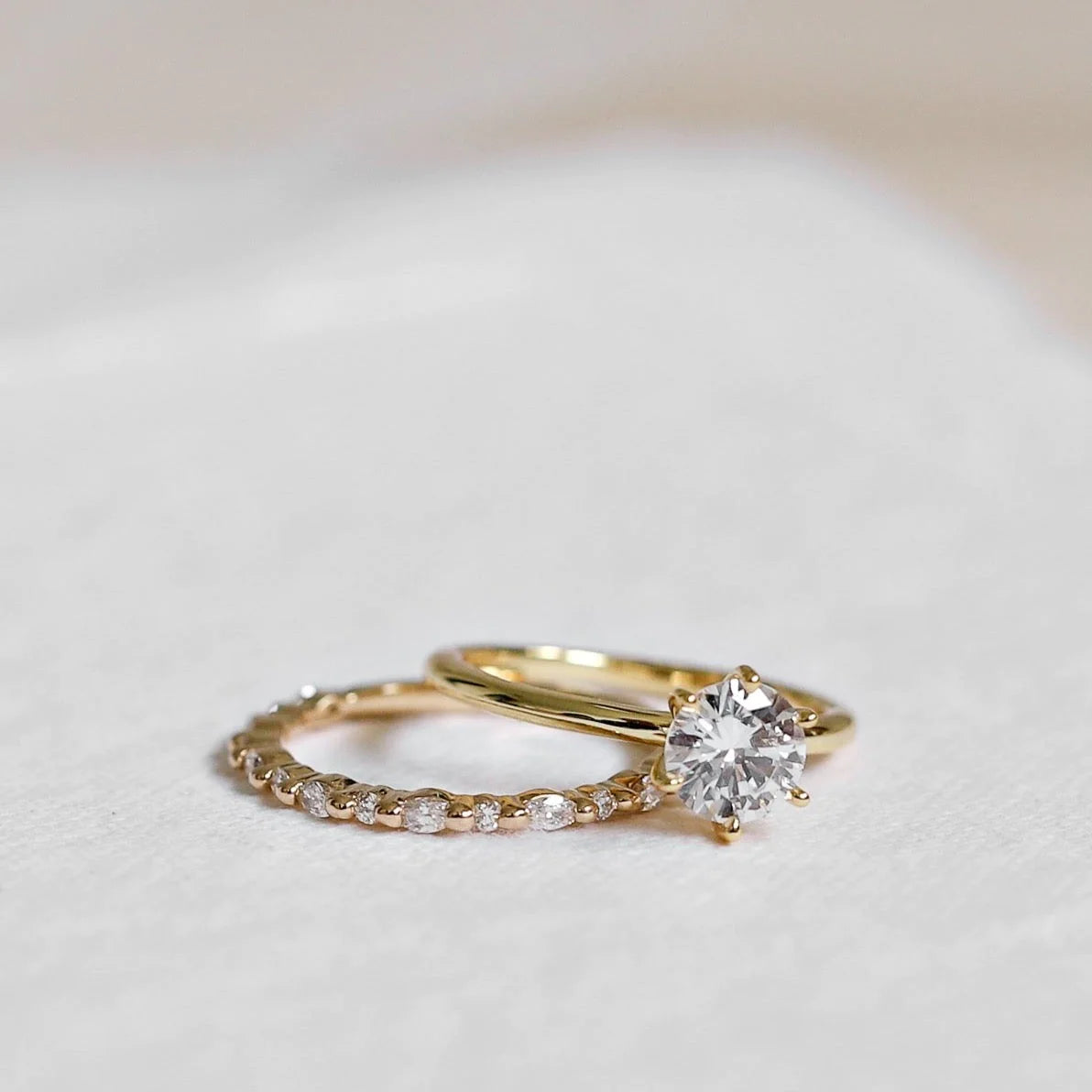 What materials are used in our women's wedding rings?
Our women's wedding rings are primarily crafted from gold or platinum and set with high-quality diamonds. We create with lab grown diamonds and natural mined diamonds and all materials are chosen not only for its beauty and durability but also for its ability to enhance the natural sparkle of the diamonds.
What makes our women's wedding rings unique?
Our women's wedding rings are designed with ladies in mind, celebrating both aesthetics and comfort. The craftsmanship and workmanship that goes into each ring ensures it is not just a piece of jewellery, but a piece of art that captures the enduring beauty of diamonds. We also pride ourselves on having a wide selection of wedding rings that aren't found in most jewellery stores in Adelaide. Come in and be inspired and enjoy the time trying on designs either up against your engagement or simply to be enjoyed as they are.
Can I view your women's wedding rings in person?
Absolutely! We encourage you to visit us in our Adelaide showroom to view our selection of women's wedding rings. This is a great chance to see what a wedding ring might look like up against an engagement ring and we can also discuss custom options that might be needed to create a perfect fit. We are strictly appointment only and so you are encouraged to book online, send us an email or give us a call and we can help arrange one for you.
Do you offer customization for women's wedding rings?
Yes, we do offer customization services. Our team of talented artisans can work with you to create a ring that embodies your unique style and story. Please get in touch to discuss your ideas and requirements.
Embrace the journey of love with our Women's Wedding Rings. Made for the female spirit, by Australian artisans, for moments that last a lifetime.